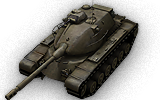 American, Tier IX, Medium Tank
This icon was a supertest leak.
WG said that's non-autoloader version of T54E1.
The T54 was a series of prototype American tanks of the 1950s with three different turrets, all armed with a 105mm gun, mounted on the M48 Patton chassis. The original T54 had a conventional turret with an autoloader, while the turret on T54E1 was of an oscillating design with an autoloader and the one on T54E2 was conventional with a human loader. The turret on T54E1 was similar to that of the T69 in its oscillating design and in that it held a crew of three and a nine-round drum autoloader under the gun. The T54E1 was abandoned in 1956 and in 1957 the entire project was cancelled in favor of the T95.
Ad blocker interference detected!
Wikia is a free-to-use site that makes money from advertising. We have a modified experience for viewers using ad blockers

Wikia is not accessible if you've made further modifications. Remove the custom ad blocker rule(s) and the page will load as expected.