British, Tier V, Medium Tank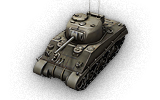 This icon and picture were supertest leaks.
400HP
29,54/30t
350 500 coins
5 men crew: Commander, Gunner, Driver, Radio Operator and Loader
Armour: 63/38/38
From:
Leads To:
The "Sherman II" is techniclly the sherman M4A1. It will most likely play like the American Sherman; and will be part of the British LL line.
For The Record leaks: http://ftr.wot-news.com/2014/09/25/sherman-firefly-and-sherman-ii-leaked/