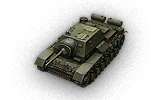 Russian, Premium ?, Tier ?, Tank Destroyer
This icon was a supertest leak.
The SU-76i (1943) was based on the German Panzer III and StuG III chassis, armed with a ZiS-5 76.2 mm gun. About 1,200 of these captured vehicles, many from Stalingrad, were converted at Factory No. 38 by adding a new enclosed superstructure. They were issued to tank and self-propelled gun units starting in autumn 1943. They were withdrawn from the front in early 1944, and used for training until the end of 1945.
Ad blocker interference detected!
Wikia is a free-to-use site that makes money from advertising. We have a modified experience for viewers using ad blockers

Wikia is not accessible if you've made further modifications. Remove the custom ad blocker rule(s) and the page will load as expected.