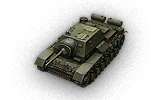 Russian, Premium ?, Tier ?, Tank Destroyer
This icon was a supertest leak.
The SU-76i (1943) was based on the German Panzer III and StuG III chassis, armed with a ZiS-5 76.2 mm gun. About 1,200 of these captured vehicles, many from Stalingrad, were converted at Factory No. 38 by adding a new enclosed superstructure. They were issued to tank and self-propelled gun units starting in autumn 1943. They were withdrawn from the front in early 1944, and used for training until the end of 1945.