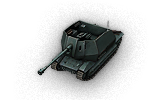 French, Premium, Tier III, Tank Destroyer
Pros:
Diesel engine
Well armored from the rear
Cons:
Tier I engine
Poor aiming time
Poor accuracy
Price:850 Gold
In 1943, ten FCM36 were converted into tank destroyers. Earlier, twelve vehicles of that type (le.Panzerhaubitze auf GW FCM 36(f)) were converted into self-propeled guns carrying the 105mm gun.
Since it was a German convertion it probably should be German.

The FCM 36 or Char léger Modèle 1936 FCM, was a light infantry tank that was designed for the French Army prior to World War II. It had a crew of two and was equipped with a short 37 mm main armament and a 7.5 mm coaxial machine gun. Power was provided by a diesel engine. The Germans captured 37 FCM 36s, using the administrative designation Panzerkampfwagen 737 FCM (f) for them. In 1943 ten of the captured FCM's were rebuilt as Marder I tank destroyers, which were employed by 21 Panzerdivision in the Battle of Normandy in 1944. Except FCM36, germans also used other captured french veichles for the Marder I conversion; Lorraine 37L (170 produced), Hotckiss H35 (unknown number produced) and Hotckiss H39 (24 produced).
Tier:III
Hit Points:180
Weight:13.89/14.60
Horsepower:91
Power To Weight Ratio:6.55
Speed Limit:24
Traverse Speed:37
Hull Armor:40/20/40
Standard Shell Damage:83-138
Standard Shell Penatration:74-123
Rate Of Fire:15.92
Gun Traverse Speed:44
View Range:400
Signal Range:310
---Guns---
7,5cm Pak 40/2
Tier:IV
Caliber:75
Ammo:40
Gun Elevation:
Gun Depression:
Shell Price:70 Silver/7 Gold/38 Silver
Rate Of Fire:15.92
Average Damage:110/110/175
Average Penatration:98/126/38
Accuracy:0.37
Aiming Time:1.5
Weight:1,520
Price:NA
---Engines---
Berliet MDP
Tier:I
Horsepower:91
Chance Of Fire:15%
Weight:200
Price:NA
---Suspentions---
FCM 36 Pak 40
Tier:III
Load Limit:14.60
Traverse Speed:37
Weight:2,000 Silver
Price:NA
---Radios---
Fu.Spr.Ger.D
Tier:III
Signal Range:310
Weight:50
Price:NA
Commander
Gunner
Driver
Loader
Consumables
Edit
Manual Fire Extinguisher
Small First Aid Kit
Small Rapair Kit
Automatic Fire Extinguisher
Large First Aid Kit
Large Repair Kit
Strong Coffee
Equipment
Edit
Enhanced Springs
Light Spall Liner
Camouflage Net
"Wet" Ammo Rack Class 1
Binocular Telescope
Coated Optics
Enhanced Gun Laying Drive
Toolbox
Camouflage
Edit
Price:
Permanent:75 Gold
30 Days:30,000 Silver
7 Days:7,500 Silver