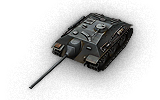 German, Premium, Tier VII, Tank Destroyer
This tank already has official screen shots and will in 8.7
---Guns---
7,5cm StuK 42 L/70
Tier:VI
Caliber:75
Ammo:60
Shell Price:109 Silver/7 Gold/98 Silver
Rate Of Fire:
Average Damage:
Average Penatration:
Accuracy:0.31
Aiming Time:1.5
Weight:955
Price:NA
---Engines---
Maybach HL 230 TRM P30
Tier:VIII
Horsepower:700
Chance Of Fire:20%
Weight:1,200
Price:NA
---Suspentions---
E-25 Ketten
Tier:VI
Load Limit:29.00
Traverse Speed:42
Weight:9,000
Price:NA
---Radios---
FuG 7 Ausf. F
Tier:VI
Signal Range:710
Weight:70
Price:NA
Ad blocker interference detected!
Wikia is a free-to-use site that makes money from advertising. We have a modified experience for viewers using ad blockers

Wikia is not accessible if you've made further modifications. Remove the custom ad blocker rule(s) and the page will load as expected.